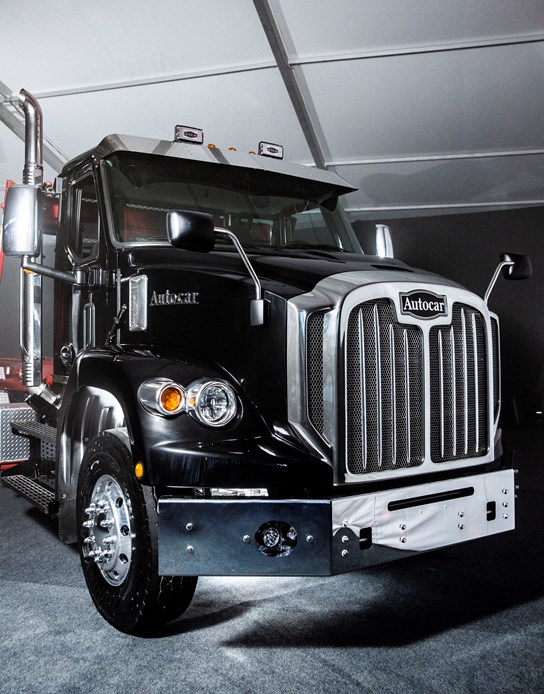 More Details Emerge on New Autocar Conventional Truck
The new Autocar® DC-64R severe-duty vocational truck just announced by the company brings to market game-changing features and capabilities. One of the most exciting features is the completely new and exclusive Autocar DC™ cab designed and tested from the ground up with the active participation of many experienced waste haulers across the industry.
Inspired by Autocar's legendary conventional cabs, the spacious DC cab has a large workspace and ergonomics optimized for productivity in refuse applications. Eric Schwartz, Managing Director of Autocar Trucks, said "The DC's cab maximizes space and productivity for drivers from the biggest guys to petite women. That was a hard balancing act to accomplish but we focused on it because our customers have diverse workforces today. We leveraged state of the art ergonomic-simulation software to optimize a whole range of factors, from gauge readability, controls reach and comfort adjustments, to the placement and spacing of steps and grab handles. We're proud the new DC cab was designed to accommodate a work crew of three very big people sitting comfortably and safely." 
James Johnston, President of Autocar, said "We started with designing the cab for safety and durability. Those are always our first objectives. So our new DC cab is built from a combination of engineered steel, judiciously chosen aluminum components, and robust steel corner castings. We also maximized driver visibility, with a steeply raked wraparound windshield for upward and forward visibility and large rear corner windows standard, very rare in class 8 conventional cabs. The best way to stay safe is to see all around and avoid getting into trouble in the first place."
The DC's focus on safety is expected to help Autocar maintain its admirable safety record. Data from the Federal Motor Carrier Safety Administration shows that in 2018 Autocar's Class 8 refuse cabover trucks had 20% fewer accidents per truck than all other competitors, and 40% fewer accidents with injuries per truck.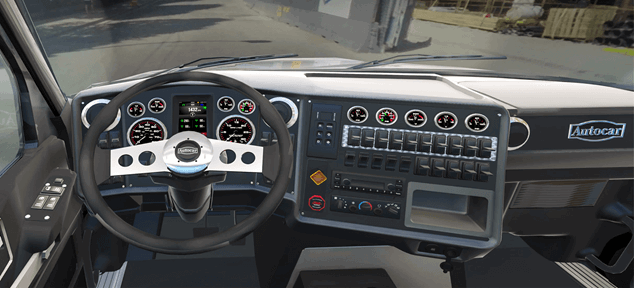 Autocar's slogan, "Always Up®" is clearly expressed throughout the cab, where resistance to damage and especially serviceability are built in. Schwartz pointed out the Autocar DNA extends beyond surface appearances. "While the new Autocar DC cab was inspired by Autocar's legendary 'Driver Cab' from the previous generation of the Autocar DC conventional, our totally upgraded electrical system and 'One-Touch Diagnostics' establishes a new state-of-the art platform for the future of vocational trucks. The truck actually monitors and diagnoses itself in real-time, not only alerting techs of issues, but  even showing a description of what fault has occurred and as well as where and how to fix it. It enables trucks to be rapidly root-caused and placed back into service, making money again for our customers."
The cab interior is unlike any of its competitors' trucks.  The steel interior, built to be damage-resistant, is a solid standout.  The dashboard is specifically designed for severe-duty durability and to enable mounting of accessories directly to the structure.
The theme of easy tech access for maintenance and repairs is carried throughout, with exposed fasteners on all the panels and easy access from within the cab to the HVAC system, cab roof-mounted components, transmission, rear of the engine, fuse boxes, control modules, and even the wiring inside the A-pillars. If service is required, technicians can quickly gain access to the location of the issue and get the truck back into service.
Autocar also revealed a powerful new feature of the DC that extends beyond the cab: a process the company call its Power of One™ integration. The new Autocar DC is the first truck to fully integrate all components, not only inside the cab, across the powertrain and electrical systems, but including the refuse body as well. Autocar's Power of One™ integration treats the total vehicle as one complete tool, not only at the engineering stage, but actually extends to installing body components on the Autocar production line in Birmingham. This unique process is said to avoid numerous issues that might otherwise arise, enhancing uptime and ROI for waste haulers.
Autocar says it is taking orders for the DC-64R now for production and delivery later this year. The first buyers of the truck are specifying roll-off and rear-loader refuse applications.